Update your Custom Alerts
Custom alerts in our Oak Bank Mobile Banking App and iBank Desktop Internet Banking allow you to enjoy peace of mind wherever you go. You can monitor account balances and activity, get deposit and withdrawal notifications, control security alerts and much more! Stay on top of your money 24/7 and update your alerts today!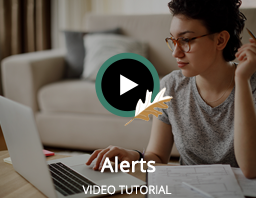 Set up Custom Alerts on the Mobile Banking App
Set up Custom Alerts on iBank Desktop
Step 1: Login to your iBank dashboard and select "Alerts" at the top right and then "Alert Options" from the menu
Step 2: Create and edit your custom alerts
If you have questions regarding our mobile banking services, contact an Oak Bank Mobile Banking Specialist for more information.
Read this Security PDF for information regarding the safety and reliability of Oak Bank's mobile banking!