With an Oak Bank MasterCardTM Debit Card you can withdraw money from your account at any ATM machine or pay for purchases wherever MasterCardTM is accepted, even online.
Other benefits of debit cards include:
Convenience
Debit cards make it easy to stay on top of your money. You can easily track all of your purchases online without waiting for checks to clear. You'll find that debit cards are accepted most everywhere that accepts MasterCardTM.
Money Management
By paying with a debit card, you avoid interest charges on your purchase. That's because debit card purchases are automatically deducted from your account.
Security
Carrying a debit card is safer than carrying cash. And debit card purchases leave less of a "paper trail" than checks, so your personal information stands less chance of falling into the wrong hands.
Surcharge-Free ATMs in Wisconsin
At the Oak Bank ATM, you can deposit or withdraw money by using your Oak Bank MasterCardTM or Check Card without a fee.
Oak Bank has teamed up with other participating community banks throughout Wisconsin to offer you surcharge-free ATM cash withdraws at "ATM Access" terminals statewide. Check out the ATM Access Finder.
Use the Oak Bank Mobile Banking App to "Manage My Cards"
You can turn your debit card "on" or "off" anytime. When they're "off"… no one can use your cards. Turn them "on" when you're ready to use them. You can also:
Safeguard your cards from fraud by getting purchase alerts in real time.
Define areas where your card can be used by using your phone's GPS.
Set and remove spending limits.
Instantly lock (and unlock) your cards if they go missing.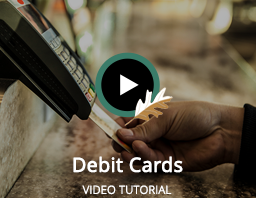 Lost or Stolen Oak Bank Card
Please call 800.472.3272 to report a lost or stolen Oak Bank MasterCardTM Debit/ATM Card 24 hours a day, 7 days a week.